Basscon: Raise Your Fist For…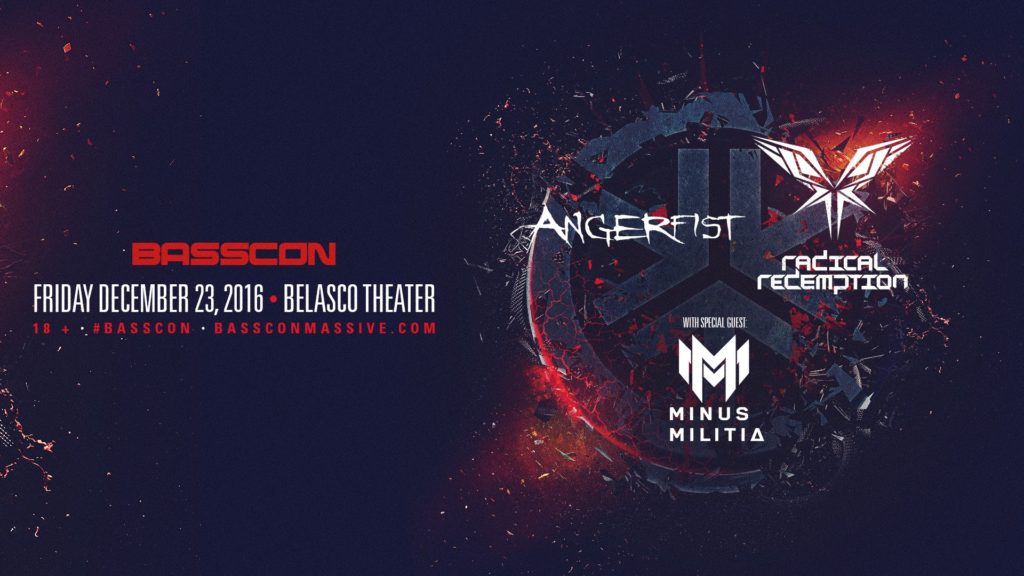 BPMBOOST Presents: Basscon Feat. Radical Redemption, Minus Militia, Angerfist and more!
As 2016 comes to a close, Basscon is wrapping everything up with one last massive party.
Angerfist, Minus Militia and Radical Redemption headline at the laser feast, bringing the heaviest show that Insomniac has probably booked since 1998. Balasco prepare to get your dome rocked.

Radical Redemption returns to the states for his 3rd time and this time he's bringing the Militia with him in full force.
Minus Militia to be exact, comprised of Radical, Crypsis and Chain Reaction make their United States debut this coming weekend. The trio swept through Europe with an Armageddon of Raw kicks and now it's LA's turn.
Angerfist, for those who aren't aware. Is the highest rated Hard Dance DJ on the DJ Mag Top 100… And for a reason.
The dude mixes and cuts through 180+BPM tracks like it was his day job… Oh wait is. A true Master of Hardcore.
Furthermore Basscon is adding a little spice to this show with a dose of Hardcore, brought to you by the Hard Data crew.
Hard Data is the United States premier print magazine for everything American Hard Dance and we're so pumped to see them hosting a stage at this event. With a scourge of American Hardcore prepped and ready to nuke the dance floor, it's going to be tough deciding exactly what stage we are going to spend the most time at.
Don't miss this historical night as we gather for one last Hard Dance massive to wrap 2016 up.
Tickets will sell out: https://basscon.frontgatetickets.com/