BPMBoost Presents: Ignition Thurdays – RSVP HERE!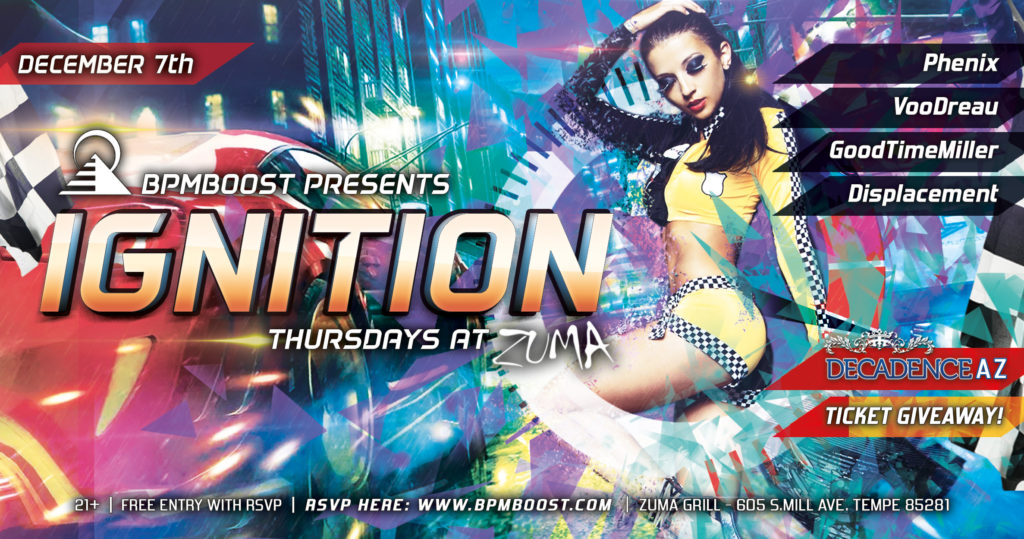 BPMBoost Presents: IGNITION at Zuma: 21+ Event - FREE w/ RSVP
Take your Thursday night and turbo charge it with our new concept IGNITION Thursdays with sounds from Arizona's finest DJ's.
Let us take you up to speed with our bass heavy monthly. Starting off your night with a go around the lap with some House music at your side, we'll take you up to 6th gear with Dubstep, Trap and Drum and Bass to finish off the night.
To kick off our new concept we're giving away a 2-day ticket to this year's Decadence NYE AZ, all you need to win is register here and swing by the event.
Upon entry to the event we will check you in and hand you a raffle ticket. HOLD ON TIGHT!
This raffle ticket will earn you entry to a chance at winning a weekend pass to Decadence NYE 2017!