Show Me Your BASSFACE: Project Z 2017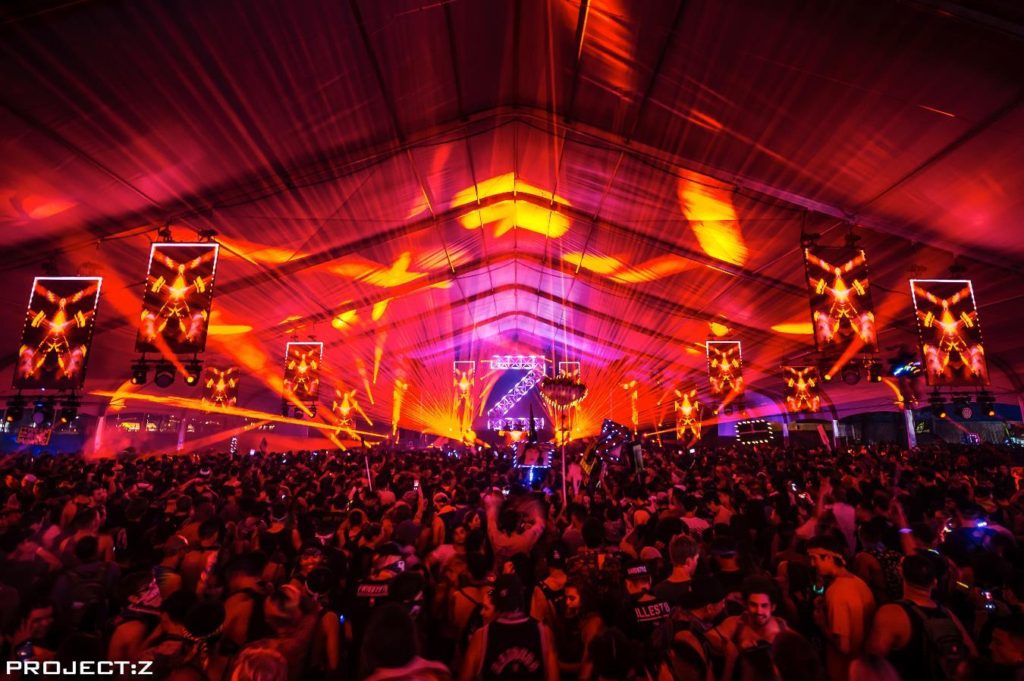 Going late into last Saturday night, Insomniacs heaviest brands went toe to toe with each other for 10 hours at the NOS Event Center for Project Z. Here are our highlights from Bassrush, Basscon, Area-Z and the whole festival.
Arriving to NOS as usual was a synch, ID, ticket and security check were a breeze, the whole process of entry was probably the most streamline thing we've done at a festival for a while. So first step, where do we begin? Upon entering the gates we were greeted by NOS's beautiful fountain, which honestly looked refreshing enough to dive into. The funky beats of Conrank at Area-Z brought the party goers in, but my crew was on a mission… Grab a beer and get down to the D&B of The Prototypes at the Bassrush stage. Once we had our delicious festival brews in hand we situated ourselves at the back center in of the stage in order to take in the full value of the production.
An immaculate LED lined "Z" stood in the middle of the stage flushed with LED panels on either side. My favorite part of this area (Besides the bass obviously) was that Insomniac had incorporated hanging panels from the front to the back of the tent. I love stage designs like this because they completely immerse the crowd into the entire experience.  We had a stacked schedule filled with time conflicts though, so after catching a good 45 minutes of The Prototypes the crew decided it was time to venture to our personal favorite stage… Basscon.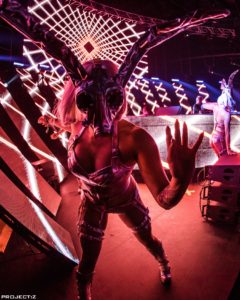 Okay, so I'm just going to put this out there… We ran to the Basscon stage, Skellism was dropping an absolutely fierce set and we were subsequently hit with a wave of MOIST-NESS. A big metal building filled with a bunch of Hardstylers jumping around at 150BPM in the middle of summer can do that though!
Side note, this experience has inspired me to create a hot yoga gym where people can both stretch and exercise to Hardstyle… Sorry Insomniac I already booked out NOS for it…
Anyway, I worked my way to the FOH (for those who don't know that's the big metal box at the back of the room). I do this because Basscon = lasers and the best place to look at lasers = next to the guys operating them. We partied here for Skellism, Tatanka and the absolutely brilliant DJ Isaac (classic set) then jammed over to Bassrush to catch the last part of Black Sun Empire, I was literally blown away by them all. But at this point I'd been jumping, hakking and dancing for about 3.5 hours.
150BPM X 210Minutes = 31,500 steps, I'm absolutely exhausted, it was time to grab a snack a water and chill. (See this Hardstyle gym isn't a bad idea at all)
Once I had my falafel pita in hand, the team and I made our way to Area-Z, plopped our butts in the grass and chilled to Moody Good and Ivy Lab for a bit. This was the perfect time to chat it up with our fellow ravers, talk about our favorite sets of the night so far and just groove. Once our batteries were fully recharged and we got our wind back it was time to finish off the night strong.
Over yonder at the Basscon stage Darren Styles was jumping up on the decks. I'm secretly a serial Happy Hardcore fan and will NEVER miss a Darren set when available to me. It was a blast, he didn't play much Happy Hardcore though. I wasn't too surprised with this considering Darren, Gammer and Dougal have been focusing on their new Monster Cat sound lately. Never the less, he is still one of THE top DJ's in the world, despite what DJ Mag might tell you, and his mixing skills enhance the music experience 10 fold. We stayed all the way out to the end of Endymion's set, in order to leave everything on the dance floor with their fierce Rawstyle sounds. Bonus, they also played Hardcore for the last part of their set which made me feel like a kid in a Hard AF Candy Store.
Overall the experience was A+ at Project Z this year. Good music, well put together festival, great people and a new batch of memories to look back on. Thank you much to Insomniac for having us out, we're looking forward to the next one!
Subscribe to Project Z to await your calling for next year!
#BPMBoost your day!