Basscon Pool Party: Artist Spotlight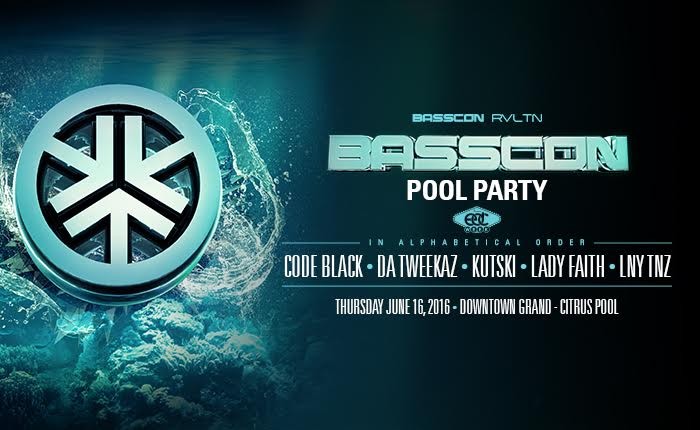 As the big festival weekend approaches, all the Hard Dance fans have decided to head to Las Vegas a day prior. Ravealation and Basscon teamed up to bring you a major Hard Dance event at the Downtown Grand Citrus Pool, which will be taking place on Thursday the 16th, at noon! This fantastic event is the Hardstyle Pool Party we have all been waiting for! It will be headlined by Code Black, Da Tweekaz, Kutski, Lady Faith, and Lny Tnz…but that is not all! Two of our nation's Hard Dance heroes will be performing at the event as well – Apocalypto and Ravealation's very own resident DJs System Malfunction and Happi!
Among the ginormous Hard Dance artists on the lineup, whom we all love dearly, it is always a comfort to see locals of our own. It shows the progress American Hard Dance has made and gives the fans a chance to witness the talent that they are surrounded by in their town!
System Malfunction, a Las Vegas local, has been spreading the gospel of Gabber for a while now! He has played shows such as Gabberfest during EDC week, SDK Event's Utopia in Arizona, and RVLTN's Apocalypto. He also travels the country to support Hard Dance events to display his love for the music. Primarily a Hardcore and Gabber DJ, System Malfunction adapts to play Hardstyle, Rawstyle and any other genre of Hard Dance that would make the crowd cheer!
Listen to System Malfunction's set at Utopia here:

Happi, more of a freestyle DJ, incorporates many genres into his mixes! It is always great to see young musicians trying to bind the gap between electronic music such as Dubstep, Electro, and Trap with Hard Dance. It also shows diversity and the ability to rock any stage they are given an opportunity to represent! More than that, it shows how Hard Dance can be combined with anyone's favorite genre to leave a crowd energetic and 'happi' at the same time!
Listen to a mix by Happi here:

Seeing these two DJs rocking the Citrus Pool with our favorite acts from across the globe will be a refreshing experience!