BPMBoost Presents: Kustki

A true DJ is someone who embodies everything there is about the craft. Between mixing, cutting, track selection, their ability to read a crowd and most importantly their true dedication to sharing the music that they love most, with as many ears as humanly possible.
Few hold to that mantra like the UK's No. 1 Hard Dance DJ, Kutski. Starting at the age of 15, he has continuously worked on perfecting his craft year over year, fortifying his reputation as one of the top DJ's in the world.
"With his infamous technical ability and incredible musical versatility it's not difficult to see why he has earned the tag 'The People's Favourite', voted the UK's No.1 Hard Dance DJ in the DJ Mag Top 100 DJs poll and scooping up awards for 'Best UK Hard DJ' for 3 years running in the Hard Dance Awards as well as best Hard Dance DJ and podcast/radio show in the Hardcore Heaven Awards." – Kutski Bio
After playing his first notable gig, he snagged up a few different residencies over the years and eventually moved to BBC Radio 1 where he held a residency until February 2012. But his work on the airwaves didn't end there, he went on next to start the legendary 'Keeping The Rave Alive' podcast which has run weekly since its inception, now approaching a huge landmark with episode 300 right around the corner. Kutski has also notably been a voice on a weekly for Q-Dance Radio and also ran the live radio stream for Qlimax.
Most know Kutski as a Hardstlye DJ, but he stretches across every genre, from Hardstyle to Hardcore and even Trance. The versatility in the tracks he plays added onto his pure skill on the decks makes him especially entertaining to watch. This has earned him the opportunity to play essentially every major festival across the globe including; Tomorrowland, Creamfields, Mysteryland, Electric Daisy Carnival, ULTRA, Defqon.1, Dominator, Q Base, The Qontinent, Dance Valley, Coloursfest and Hard Island.
Between his festival appearances and club shows alike, Keeping The Rave Alive naturally branched off to being Kutski's branded tour. He's taken the tour around the world multiple times, selling out events and arenas across the globe. Keeping true to representing 360 degrees of the harder styles names like Zatox, Frontliner, Isaac, Coone, DJ Mad Dog, Korsakoff, Code Black, Dr. Rude, AniMe, The Viper, Darren Styles, Evil Activities, Gammer, Alex Kidd and many more have appeared on his tour.
"The KTRA brand has also inspired an album series already into its fifth volume, which has claimed the title of the UK's highest selling hard dance album; featuring on the front page of iTunes worldwide and still pressing and selling physical units to devoted fans worldwide!" – Kutski Bio
Kutski rocked the house for BPM Boost last February when he played with Mark Breeze. We had an absolute blast and knew that booking the KTRA tour again in Arizona was going to be the right move, but under one condition. We had agreed that everything needs to go bigger, more lights, more music and of course some FREAKING lasers to go with the 2018 "Reach For The Lasers" theme.
Kutski will be joining the stage this year around with DJ Dougal, a staple artist in the Happy Hardcore realm. A limited amount of tickets are on sale now at bit.ly/ktra2az be sure to grab yours today and come prepared to keep the rave alive, deep into the Arizona night. Save the date, Saturday February 24th at Club Red.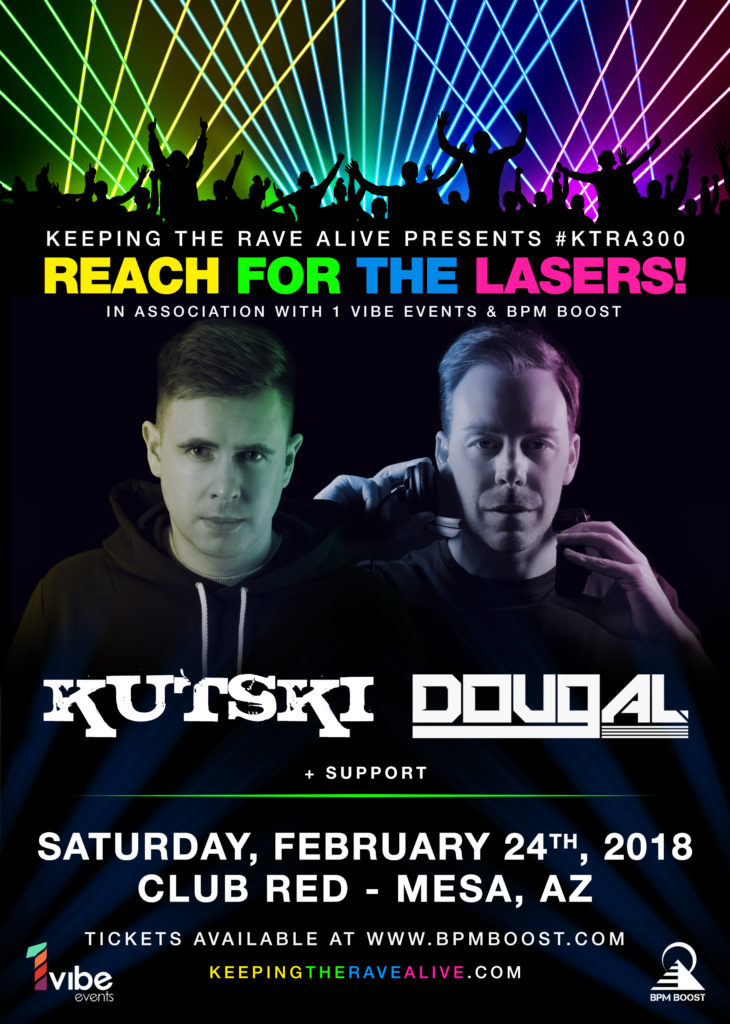 #BPMBoost your day!
Connect with Kutski
Facebook | MixCloud | YouTube
Connect with Keeping The Rave Alive
Facebook | MixCloud | www.keepingtheravealive.com
Connect with BPM Boost
Facebook