Hard Asylum – Seek Refuge In Madness!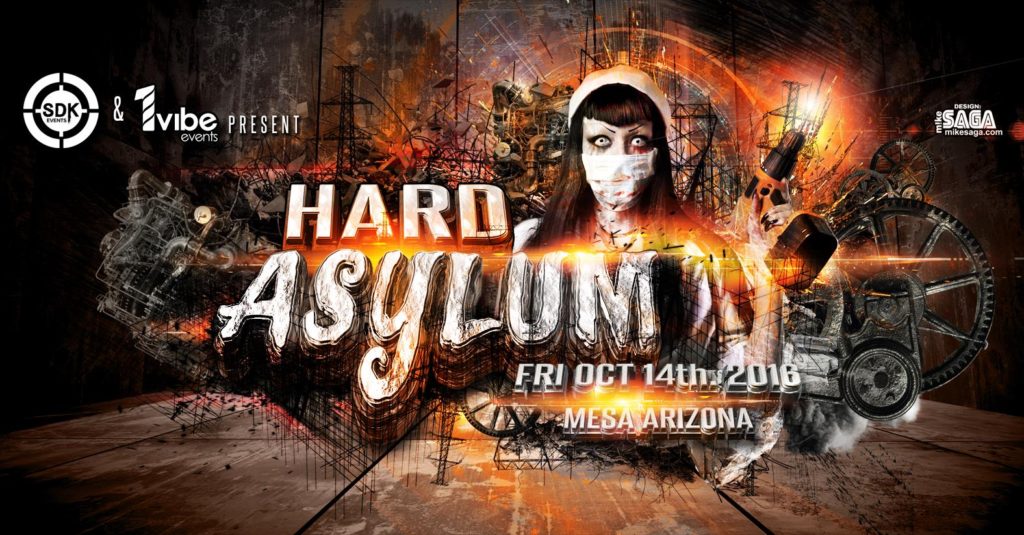 Back at it again for another year of chaos amongst lunatic savages and creatures of the night, Hard Asylum returns to consume you! Brought to you by SDK and 1 Vibe Events, the Asylum opens this Friday at 8 pm and you're cordially invited!
The darkest hour in the UK has spread to Arizona, bringing an infectious psychosis to eat away at your soul. Hard Asylum presents Demios as one of its headliners for his debut performance in the US, making this event not one to miss! Demios has been working closely with the American Rawstyle king, Mrotek, to bring us mastered works of art in the form of truly sinister music! Mrotek will also be performing at the Asylum, dosing us with raw kicks and heavy basslines!

Speaking of the duo above, Mrotek and Demios entered their remix of "To Hell" into Sub Sonik's contest and were chosen in the final 10! You can listen to their remix of the track here, and follow this link to vote for them by liking the picture! The contest ends on November 1st, so get voting!
Another headliner to spark mischief in the madness is Pulsatorz! A Hardstyle act from New York City, Pulsatorz has been rocking the rave scene on the East coast since 2008! Affiliated with renown sectors in the industry such as Hard Dance Nation and Scantraxx, Pulsatorz is definitely an Asylum must see!
Every Asylum needs radical religious leaders to void our freakish minds of sin! Not only are we graced with the presence of Kore with a very special Happy Gabber set, we also get to seek refuge with him, Cap and Brandon Adams in Godsquad – a trio sent from above to decimate evil at the highest of tempos!
For the lovers of Hardstyle, Hard Trap, and Bass Music, Hard Asylum has you covered with sets from Hvrdwood and D-Tragix!
Last but not least, for the mental induction of an upbeat set featuring a selection of different genres mixed with Happy Hardcore, catch the set of our mini Kayzo/Gammer prodigy, Nodari! He is also the curator for BPM Boost's latest monthly podcast!
Altogether, Hard Asylum has a pretty stacked lineup and is expected to be a crazy event! Purchase your tickets now or you'll regret missing one of the coolest parties in Arizona this Halloween season!