Join The Resistance At Hardstyle Arena: Dystopia [This Saturday]

As the sun sets upon the Los Angeles skyline, this Saturday the freaks will be coming out at night to play, gathering at Fresh Entertainments Hardstyle Arena. Ladies and gentlemen, welcome to Dystopia.
Warface the master of raw brutilization and MKN the reverse bass junkie, are ready to take the stage and bring down the house. How ever a new combatant is entering the arena this Saturday...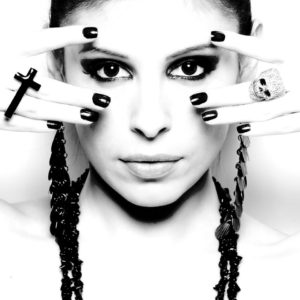 Having been captured by combatants Titan will no longer be able to play for us regrettably. However DJ Anime one of the fiercest Hardcore ladies on the block will be stepping in for him. Anime was born in the lovely city of Piacenza, Italy. Signing with Traxtorm in 2008 and releasing her first EP in 2010 she quickly climbed her way to the Hardcore Hall of Fame. 2016 she released her first full solo album called EXTERMINATE while also maintaining her podcast "ABSOLUTE MIX". This will be her first SOLO set in the United States, having made her first appearance at this years EDC, B2B with Dogfight Records label mate Dj Mad Dog. I've seen this chick at Defqon.1 before, holy hell this is going to be a treat.
Speaking of podcasts we have something special for you guys this week. Our homegrown Hard Dance MoFo's the DrugLordZ, who are opening up the stage for us this weekend did us the honor of producing our latest BPM Boost guest mix. The newly formed LA based duo made their debut at Winterfresh, but Eni and Juan have been creating music for much longer than just last December. The two have their own aliases making Freestyle and Hardcore respectively but created the DrugLordZ in an attempt to fuse their sounds and create something unique on the Hard Dance plateau. Expect their releases to kick a new beat into your ears soon. (I hear they're playing original music this weekend!)
The nefarious DrugLordZ took some time to talk about themselves, their hopes dreams and music.
What inspired you to get into music?
​Eni: well when I was a baby my parents used catch me taking out all the pots and pans and using them as a drum set. I continued to take lessons in various forms of drums such as congo, concert snare, and eventually played bass in my high school drum-line. I think what really inspired me to get into music was the way it affects people and how it can control a persons state of mind. I really love the performance aspect of it and watching people become entranced by a rhythm or melody.
Juan: I've been searching and exploring new sounds for more than 10 years, trying to improve my own sound and find the balance between the music I love and the sound I always wanted. As a "retired" Ghost producer, I have always been learning about different genres of music, loving and exploring each one to get the best track possible, but now as a Druglordz DJ, is way better to get back on music production because you feel that your music can change a lot, doesn't need to be lured to one style of music, it can be all style at the same time, from 75bpm to 200bpm, everything is possible because we are free, and that is my biggest inspiration on music, be free and express what we want
After we played the same venue in San Francisco, we were talking about how we can improve the hard dance scene and music here in SoCal and the US, after that, we decided to try a new duo project, purely focused on own productions and american artists.
Our biggest inspiration is not based on a goal or person.. it's actually based on all possibilities that we can create with music, all those genres and amazing sounds. We believe that we can improve everyday with hard work and a lot of dedication to make the difference.
Where would your dream DJ set to play at (other than HSA obviously) be?
Honestly our dream DJ Set or Live act would be EDC. We really want to engage the audience here in the states and spread the love of hard dance music.
Who are you most excited to see at HSA?
Anime off course, we love her and we will take her as hostage with our sound
Whats some fun exciting news you want to share with fans?
We will be releasing an album with a new up and coming label called BLVKSHLD Records. As well as our next performance will be at the HardRush vs. Scarred Digital show on August 18th here in LA.

----------
I'm personally excited to see the bright future these two bud and develop in the scene. It's really nice to see more and more Americans making their stake in the ground when it comes to Hard Dance Music. Get ready to plug in your tunes, here's some music for your car ride to Hardstyle Arena, or maybe your pitty party for not coming to this event.
#BPMBoost your day.