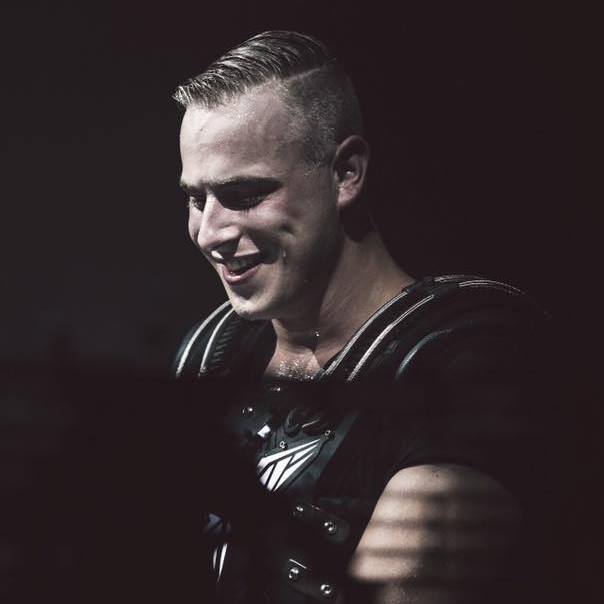 Joey van Ingen a.k.a. Radical Redemption is the man behind this new name in the hardstyle scene. He's born in 1990, and grew up in the east of the Netherlands. 
From day one he was interested in all kinds of music.
At age 10 he started to play the drums. His interest went to the rhythmic elements in music. As drummer he played in several bands, 'Pacific' became his main project. But, at that same time he came in touch with the harder side of dance music. He had to make a choice.

Joey wanted to spin records, so he bought two turntables and started practicing. After a while he organized hardstyle parties in his garage for his friends. They had a good night partying and Joey had a good night behind the decks! A couple of months later he became the resident DJ in a local club. But, what if he could spin his own tracks? That would be totally awesome! So, around the beginning of 2009 he started producing hardstyle. He used all his spare time to improve his producing skills. Day in, day out, producing, producing and producing. (and after that, producing!)

While improving his skills, Joey developed his own style. A lot of rhythmic elements, raw sounds, heavy kicks and dark atmospheres will define this. Also thinking outside the box, trying something new and experimenting with a lot of sounds.
At the end of 2010 his passion and hard work fascinated Crypsis. This resulted in a collaboration named 'Darkness is Calling', played at Hard Bass 2011, in front of 25.000 insane party people!
This is just the beginning, so watch out, more tracks will be coming..

Radical Redemption, just getting started, but a future force to reckon with!
With his infamous technical ability and incredible musical versatility it's not difficult to see why he has earned the tag 'The People's Favourite', voted the UK's No.1 Hard Dance DJ in the DJ Mag Top 100 DJs poll and scooping up awards for 'Best UK Hard DJ' for 3 years running in the Hard Dance Awards as well as best Hard Dance DJ and podcast/radio show in the Hardcore Heaven Awards.
His 'Keeping The Rave Alive' podcast and radio show has become one of the world's leading forces in the harder styles and the UK's leading hard-edged brand.
Kutski's incredible diversity and huge demand with fans has seen him play at every major festival worldwide including Tomorrowland, Creamfields, Mysteryland, Electric Daisy Carnival, ULTRA, Defqon.1, Dominator, Q Base, The Qontinent, Dance Valley, Coloursfest & Hard Island. Internationally Kutski continues to dominate new territories in emerging markets such as North America & Asia as well as building stronger fan bases year by year touring Australia, USA, Canada, Japan, South Africa, Malaysia, Indonesia, Scandinavia, Poland, Austria, The Netherlands & Germany!
2012 saw the launch of Kutski's 'Keeping The Rave Alive' brand, set up to represent 360 degrees of the harder styles of dance music. Kick-starting as a weekly podcast it quickly gained momentum and now exceeds 100,000 downloads per week and regularly charts in the Top 10 downloads on iTunes alongside the likes of Armin van Buuren, Annie Mac & Tiesto. With the hype around the KTRA show reaching epic levels, world renowned leader of the harder styles Q-Dance asked Kutski to broadcast weekly on the Q-Dance radio network as well as drafting him in for radio specials co-presenting with scene leaders such as Headhunterz & Wildstylez!
Keeping The Rave Alive or KTRA for short has now branched out hosting its own sell-out events and arenas across the UK and worldwide. Representing a wide spectrum of the harder styles from the lighter sounds of hard dance right up to up-tempo hardcore sounds with guests including Zatox, Frontliner, Isaac, Coone, DJ Mad Dog, Korsakoff, Code Black, Dr. Rude, AniMe, The Viper, Darren Styles, Evil Activities, Gammer, Alex Kidd and many more!
The KTRA brand has also inspired an album series already into its fifth volume, which has claimed the title of the UK's highest selling hard dance album; featuring on the front page of iTunes worldwide and still pressing and selling physical units to devoted fans worldwide!
Not content with all of the above accolades, Kutski has been busy in the studio continuing his ethos of not being bound to one genre. He's produced countless anthems collaborating and remixing with the likes of Audiofreq, Endymion, TNT, Advanced Dealer, Furyan, Darren Styles, Gammer & Joey Riot on a diverse range of labels including Scantraxx, Traxxstorm , Fusion, Masters Of Hardcore, Dirty Workz, Mixmash, Nightbreed & Together We Rise with support right across the board across all of the harder scenes!
Expect much more from Kutski, be prepared to be amazed and you wont be far wrong!