Basscon Wasteland 2017: Event Preview

Basscon Wasteland is back with a bang in 2017! Once again employing NOS Event Center, Basscon is bringing us two days of dedicated Hard Dance Music. Upon release of the full lineup, there was an outburst of joy to see the return of Zatox to the States. The last time this God of Italian Hardstyle graced us with his presence was for The Sound of Qdance LA in 2014. Its been too long! We are glad to have him back!
Check out one of his very recent tunes, Indigo:
In addition to the return of Zatox, "this year's Wasteland is hosting the highly anticipated US debuts from Toneshifterz and Miss K8" – insomniac.com. Toneshifterz, an Australian Hardstyle artist who has played various festivals including Decibel and Defqon 1, is also responsible for 2011's Defqon 1 Australia anthem titled "Psychedelic Wasteland"… even though it was about 6 years ago and was completely unrelated, the over-dramatic imagination within me likes to call it foreshadowing .
Toneshifterz has also been vividly experimenting with the trending "Psystyle", an interesting combination of Hardstyle and Psytrance, also referred to as "Schranz" by some. The Psystyle trend has received multiple reviews on both ends of the spectrum, however, the best part about experimenting with a genre is creating something different.. something unique, which otherwise wouldn't have been discovered. If it weren't for taking risks, Hardstyle wouldn't really be what it is today. Personally, I actually like the sound of it, and I'm excited to see Toneshifterz throw some down!
Miss K8, one of the most popular female DJs in Hardcore, definitely cannot be missed. Known by fans as "the goddess of Hardcore", she has performed on stages at some of the most grand festivals including Masters of Hardcore, Dominator, Syndicate & Defqon.1. "Her solo releases and collaborations are of the highest grade and worshiped by people all over the world".
Also returning to the Wasteland stage are 30 world-class artists, including Da Tweekaz, Angerfist, Wasted Penguinz, Noisecontrollers, Wildstylez, LNY-TNZ and DJ Isaac. The complete lineup is listed below: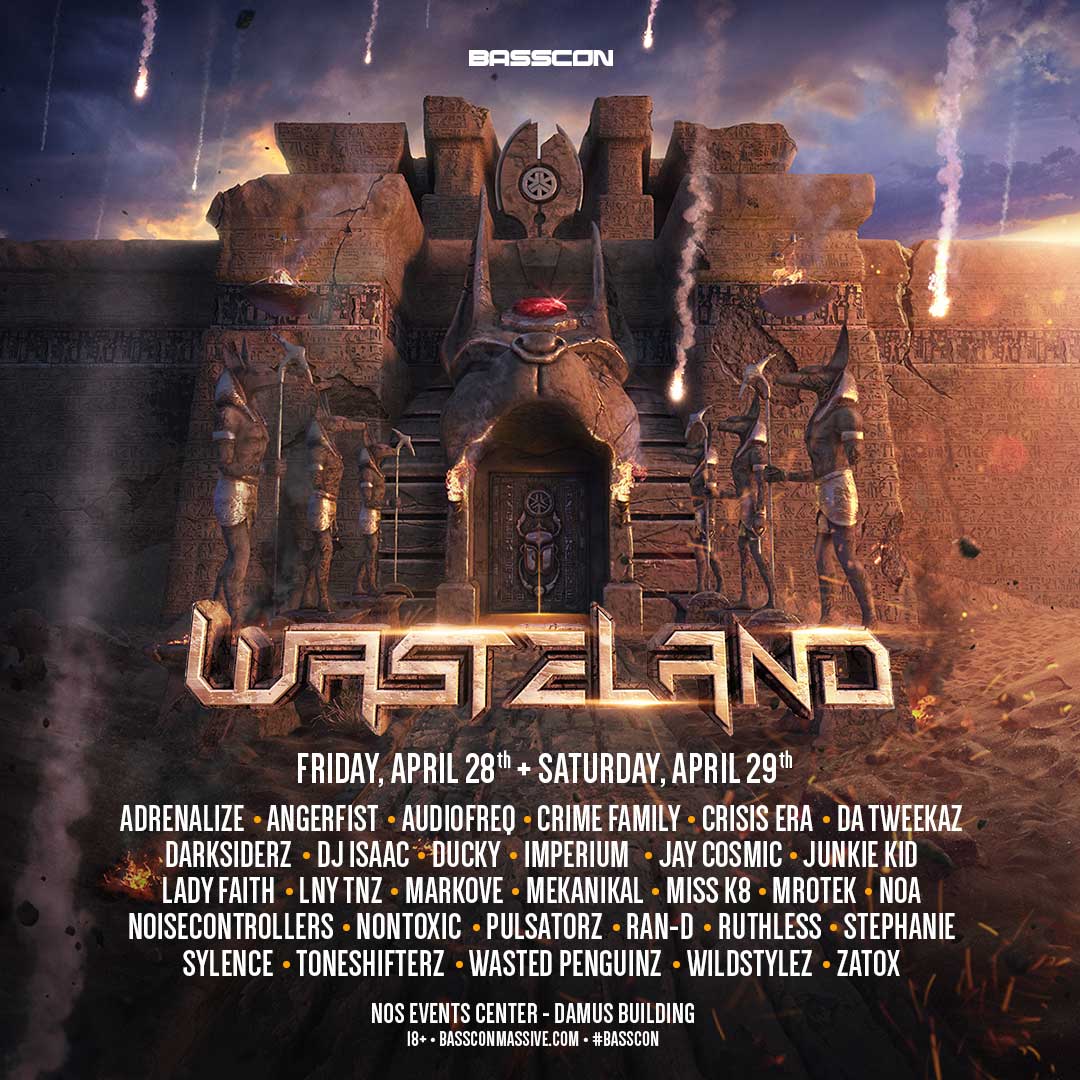 Another exceptional addition to Basscon this year is an extra stage where the insomniac crew is hosting performances by locals including Arizona's very own Mrotek and Denver Hard Dance's Duo Imperium. Mrotek recently got signed to Dirty Workz' label, Anarchy, with whom he released his latest track "Substance Abuse". Many fans from all over the US are travelling to see their local heroes perform at Wasteland.
This year, Basscon is adding on a special characteristic to its fantastic production. "Any Basscon fan knows the Wasteland signature stage production is always a marvel unto itself, and this year we're upping the ante as we debut a new Egyptian theme on the colossal Wasteland structure." It is pretty epic to witness the Hard Dance scene in the States grow and to watch the fans accompany each other on a pilgrimage to this Egyptian adventure zone! Make sure to unearth your "shendyt" and release your inner pharaoh!
#BPMBoost Your Day!