BPM Boost: HTID USA 2015 – Event Review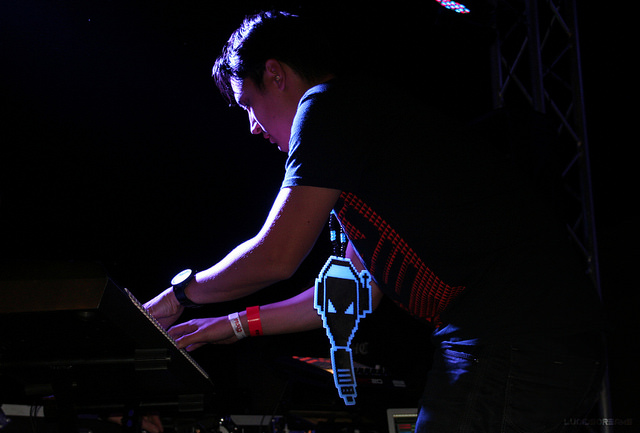 The heavily anticipated HTID USA 2015 was indubitably a success. The old school rave vibe was brought alive once again by numerous talented artists from across the globe, and the colorful crowd. Stratus Event Center was dolled up with epic lighting and sound, inside and out, for both stages during the two-day event. Seeing so many lovers of the Hardcore genre in one place was definitely an uplifting experience. Although, I was profoundly looking forward to The Harder They Come stage on Day 2, I was definitely able to enjoy every bit of Day 1. The entire HTID crew, along with James Rize, who provided me with the opportunity to attend the event and collect some great digital footage, were hospitable and commendable in every way.


Ian K from Seattle threw together a great set, mashing up elements of Hardstyle and Drum and Bass with Happy Hardcore leads. The Doctor pulled in a large audience with his bouncy beats and old school energy. M-Project from Japan played a hard, edgy and up-tempo set. Fracus and Darwin were a great duo to watch. They were fun to chat with as well. Coming all the way from the UK just for HTID, they put together a euphoric and bouncy set with lyrical feels. One of the more anticipated sets of the night belonged to Gammer, also from the UK, who flawlessly mixed melodic Happy Hardcore with hard Drum and Bass, House, Hard House and some sick Hardcore to tie it all together. Even though he focused on Happy Hardcore for the HTID Arena audience, he was able to mash up a set that pleased everyone, and got the crowd excited. Outside, at the Old School Till I Die stage, Dune rocked the night away. The German artist took over the spectators with lots of Gabber and nostalgic tunes.
Day 2 kicked off to a great start with Arizona's very own DJs. Epic Rawstyle tracks were thrown down by Cormac as the event began to pull in an audience. Local DJs Spear and Mamo played a great set with lots of Hardstyle. The local legend, CIK, got the crowd ready for Ophidian and Partyraiser at The Harder They Come stage. His set was probably my favorite of the entire event, Days 1 and 2 combined. The Doctor let his harder side shine with some Gabber and Hardstyle, and Scott Brown, another flawless artist from the UK tied it all together with one of the most badass performances I have witnessed firsthand. He engaged with the crowd, and got everyone pumped with the raw screeches and heavy kicks in his mix for the night.
Ophidian has the magical capability to effortlessly combine soul touching melody with heart wrenching hardcore. His set was live and it took the crew a couple minutes to put all his equipment on stage for him to use. Playing some of his famous tracks like 'Unacceptable' and 'Butterfly' Ophidian got the Hardcore-heads wild.
Let's just say, Partyraiser's name makes complete sense. He raises a party. He gets people up, makes them mosh, and hug the speakers with his up-tempo beats and heavy Hardcore kicks. When he played 'From The West', the entire audience sang along and went berserk. The "One more song!" chants echoed into the night as the event came to an end. Partyraiser took the time to talk to us and about Hardcore. He loves what he does.
The unique factor I have noticed in Hard Dance DJs is that they really care about what they play. They take the time out to talk to their fans and are extremely appreciative of everyone. He stood there talking to a fan in Dutch who had moved to the States and came all the way from LA to see him perform. When we were leaving the venue in our car, blasting 'The Sound Becomes One' by Partyraiser on our speakers, the legend himself, walked up to our car and said, "Sounds familiar, the tune is recognized!" He followed that by giving us a hi-five and saying how he hopes to see us again soon in the near future.